Most steel drums are made of either carbon steel or stainless steel. Stainless steel offers better chemical resistance than carbon steel and is an ideal solution for products requiring drum purity and compatibility of materials, depending on their composition. Due to unique properties, stainless steel drums can outperform carbon steel drums in terms of corrosion resistance, tensile strength and reusability.
---
Drum Top – Open Head or Tight Head (Closed Head)
Drums are available in either open head (cover can be removed) or tight head (cover is permanently secured).
Open Head Drums – Open head drums, also called 1A2 drums, have a fully removable cover secured with a bolt or lever lock ring closure. Open head drums make it easier to work with solids and thicker liquids (oils, absorbents, syrups, glues, etc.) and are typically used in situations where frequent addition or extraction of the contents occurs.
Tight Head Drums – Tight head drums, also known as closed head or 1A1 drums, have a secured, non-removable top and are typically used with lower viscosity liquids. Access to a tight head drum typically is via a 2" and 3/4" bung opening in the top of the container.
---
Covers and Closures
Cover – A cover is the lid or top to open head drums. Covers must be secured with a bolt or lever lock ring closure.
Bolt Ring Closure – A bolt ring is a closure ring that holds the cover on to the body of the container by encompassing the cover and the top of the container in a groove. This ring is then tightened by a bolt that pulls the ends of the rings together. A calibrated torque wrench is used to confirm proper closure (to meet UN Rating requirements).
Lever Lock Ring Closure – The lever lock ring holds the cover on to the container with a latch (or toggle) that is pulled from one side to the other and applies torque to the two ring ends in a similar fashion to the bolt ring. No torque wrench is required to confirm proper closure.
---
Gaskets
There is a large variety of gaskets both in material and profile (shape). Most common gasket materials are EPDM, Neoprene, Teflon, Rubber and Cellulose. All gaskets have different properties that make them more suitable for certain applications. Gaskets also vary in terms of performance, specifically the profile (shape) which affects the UN Rating of the drum. It is important to note that a United Nations certified container must use the tested gasket in order not to invalidate the test certification. There is no hard and fast rule on what gasket / drum combination are compatible, it is however not permissible to change one gasket type for another unless the container has been tested with both.
---
Fittings – Bung Holes, Flanges, and Plugs (Bungs)
Steel drums typically have two openings (bung holes) with flanges, 2″ and 3/4″ in diameter, in the top of the container (or cover for open head drums). The flanges are the closure attachments that are permanently inserted into the drum and provide the receiving threads for a plug. Most steel drums have NPT (National Pipe Thread Taper) threaded openings. Unlike straight pipe threading, NPT threaded fittings will pull tight to make a liquid-tight seal.
Once drums are filled, plugs (bungs) are screwed in the flanges using pneumatic or hand operated bung tightener (plug or torque wrench). To secure the contents of the drums against theft and adulteration during shipment, cap-seals are used. These cap-seals sit on top of the flanges and are 'crimped' using drum cap-seal crimping tools (also called drum cap sealers). Once cap-seals are crimped, the plugs can be unscrewed only by breaking these cap-seals. Pneumatic and hand-operated cap-seal crimping tools are available. Pneumatic ones are used in production lines for high production.
Two standard types of plugs (bungs)
A Tri-Sure style plug has a round plug in octagonal flange.
A Rieke style plug has a hexagonal plug in a round flange.
Tight head fittings typically include a 2" x 3/4" Tri-Sure Style Plug & Flange.
Linings – Lined or Unlined
The interior lining is sprayed on to a drum in an interior-lining booth. The shell of the drum rotates and as it rotates the interior is coated with a coating that is sprayed from a nozzle inside the drum. The drum is then oven-baked for a specified time and temperature.
Unlined (with a Rust Inhibitor Enamel) – The purpose of rust inhibitors is to prevent the drum from rusting prior to being filled. It is not intended to act as a lining. It is normally applied at thin films 0.1-0.2 mils dry.
Epoxy-Phenolic Lining – The epoxy-phenolic linings have been designed to provide outstanding chemical resistance in a pH range of 7.0 – 9.0. The resin ratio has been varied in specific formulations to achieve the desired compromises in flexibility and resistance. Typical products packaged are alkaline products, fatty acids, detergents, emulsions, foods, general organic chemicals, surfactants, and water based resins.
---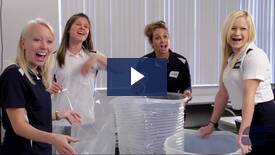 Drum liners are typically constructed from FDA approved polyethylene, and are designed to fit in either steel or plastic drums of various sizes. Drum Liners come in a variety of styles including straight sided liners, pleated (accordion style) drum liners, flat bottom drum liners, round bottom drum liners and anti-stat drum liners. Anti-Static Drum Liners help reduce static build up in volatile applications. Available in multiple widths, liners help minimize drum cleaning and replacement (reducing waste) and prevent product contamination. They are used for storing and shipping a variety of materials, such as liquid and raw products, and are available in 15 gallon, 30 gallon and 55 gallon sizes. Liner Mil thicknesses range from 4 mil (Bag Liner) to to 15 mil (Rigid Liner) to 30 mil (Heavy Duty Liner).
---
Steel Gauge and Thickness
The thickness (1.2 mm) or gauge (18 gauge) of the steel is important depending on the reason you're using a drum. Generally the heavier and thicker the gauge of steel used to manufacture the container, the sturdier the container will be in service. Thicker drums, that are UN Certified, are recommended for shipping hazardous liquids, as they're stronger than thinner drums. The gauge used will not always be reflected in the performance of the container with regard to it's UN marking, but a sturdier container will certainly stand up better to the rigors of transportation. A lighter container will most certainly not stand up as well.
Most drums display the thickness of the drums in parts, top/body/bottom (1.2/0.9/1.5). That would mean that the top is 1.2 mm thick (18 gauge), the body is 0.9 mm thick (20 gauge), and the bottom is 1.5 mm thick (16 gauge). Most drums fall in the range of 0.9 – 1.5 mm thick.
| | | | |
| --- | --- | --- | --- |
| 24 | 0.0200-0.0260 | 0.71-0.81 | 0.6mm |
| 22 | 0.0880-0.0320 | 0.71-0.81 | 0.8mm |
| 20 | 0.0319-0.0370 | 0.81-0.94 | 0.9mm |
| 19 | 0.0380-0.0420 | 0.99-1.07 | 1.0mm |
| 18 | 0.0433-0.0480 | 1.10-1.22 | 1.2mm |
| 16 | 0.0543-0.0590 | 1.38-1.50 | 1.5mm |
---
Rolling Hoops / Reinforcement Rings
Rolling Hoops are the hooped expansions that are located in the body of a drum that act as reinforcement rings to permit easy handling of the filled drums. Most 55 gallon steel drums are built with three rolling hoops (the first hoop is placed 3 inches from the top curl while the other 2 hoops are centered on the drum) and a few are built with only two hoops. There are also 55 gallon drums constructed without any rolling hoops, called straight-sided drums, which are not UN rated due to strength. Chimes are the bottom or top perimeter of the drum comprised of the edges of the combined thickness of the head and the body.
---
UN Ratings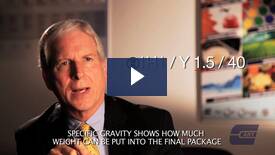 Developed as a set of standards, by the United Nations, UN ratings are essential for shipping or storing hazardous materials. The UN Rating is a series of number and letter codes that show what a container is regulated to handle. They determine this through a series of tests that all containers must undergo if they are to be UN Rated. Current UN Regulations are enforced by the D.O.T. It is up to the filler of the product to determine what UN Rating they need. Guide to UN Ratings
---
Drum Colors
The standard color for drums (in-stock) is black, but white, gray, medium and dark blue, harvest yellow, red and deep green are typical colors of drums. Additional colors are available upon request. The different colors enable many customers to keep track of what they have stored in different containers easily without having to open them. They can glance at say, 50 drums, and easily identify what each contains. Stainless Steel Drums are not painted.
---
Steel Drum Frequently Asked Questions
Are Steel Drums Food Grade?
Most of our new lined steel drums are FDA approved for food or pharmaceutical storage.
Unlined and Reconditioned drums are not FDA approved for food or pharmaceutical storage.
What's the best drum to make a BBQ or Smoker?
All our unlined drums can be adapted to use as a BBQ or a smoker, however, one must be cautious never to cut or weld a drum in which the plugs or cover are still secured. If air is trapped inside a drum, a build-up of pressure, when cutting or welding, can lead to an explosion. The unlined drums with a rust inhibitor can be easily burned out with a propane torch at the same time you are removing the original exterior paint. 55 Gallon Drum BBQ Smokers & Grills
Can you store Water in a steel drum?
Unlined steel drums will rust. Epoxy-phenolic lined drums can store water, but plastic drums would be a more cost effective solution.
---
Standard Shipping Questions
How do you ship? – We ship LTL (Less Than Truckload), Truckloads, UPS and FedEx.
What is the best way to ship a steel drum? – It depends on the quantity being shipped, the location, and the size of the drums. Drums in small quantities up to the 55 gallon size can ship UPS. Larger quantities of steel drums go either LTL common carrier or truckload.
What quantities can ship UPS? – Generally, quantities of up to 10 steel containers can ship via UPS for drums 55 gallons or smaller. For drums that are 10 gallons or less, UPS will accept larger quantities.
What quantities should ship via truck? – Quantities of 2 or more are shipped LTL common carrier. For 55 gallon containers, orders for quantities of 8 or more are shipped LTL.
How many steel drums will fit on a pallet or on a truck? – The number of steel drums that fit on a single pallet varies depending on the size of the drum and the size of the pallet. As a rule of thumb, for a 48" x 48" pallet the totals would be the following (assuming that the container is a 53 foot trailer 102" wide.).
| | |
| --- | --- |
| 5 gallon | 63 per skid (all 5, 8, 10 and 16 gallon drums have 9 per row on each pallet) and 1638 per trailer |
| 8 gallon | 56 and 1456 per trailer |
| 10 gallon | 45 and 1170 per trailer |
| 16 gallon | 27 and 702 per trailer |
| 20 gallon | 20 and 520 per trailer |
| 30 gallon | 15 and 390 per trailer |
| 55 gallon | 4 per layer, 8 per skid, 208 per trailer (palletized). Floor loaded (no pallet) is 320 |
| 85 gallon | 3 per layer, 6 per skid and 156 per trailer |
| 96 gallon | 3 per layer and 6 per skid and 156 per trailer |
| 110 gallon | 1, total of 26 per trailer |
---
Salvage Drums are designed to contain packages of hazardous materials that are damaged, defective, or found leaking. The drums are regulated by the Department of Transportation (DOT) under 49 CFR 173.3 (c). If a company or shipper has a leaking package of hazardous material, sorbents or rags used on a spill or leak, and they wish to ship them across public roads, they must use a Salvage Drum under the restrictions of 173.3 (c). The Salvage Drum is larger than the leaking package allowing the leaking package to be placed inside the Salvage Drum for safe shipment to a disposal or treatment facility. The Salvage Drum must be compatible with the lading in the leaking package. Shipments that do not follow the DOT Hazardous Materials regulations are shipping illegally and could face fines, typically $250.00 – $25,000.00 per violation, levied by the DOT.
---
Drum Accessories & Tools
---
Informational Drum Videos
Crimping Demo
How to Crimping Tool
Heating Solutions
What is a PowerBlanket?
Band Heaters
Drum Blanket Heaters
55 Gallon Drum Pump
Ultra-Spill Pallets P4 Plus